---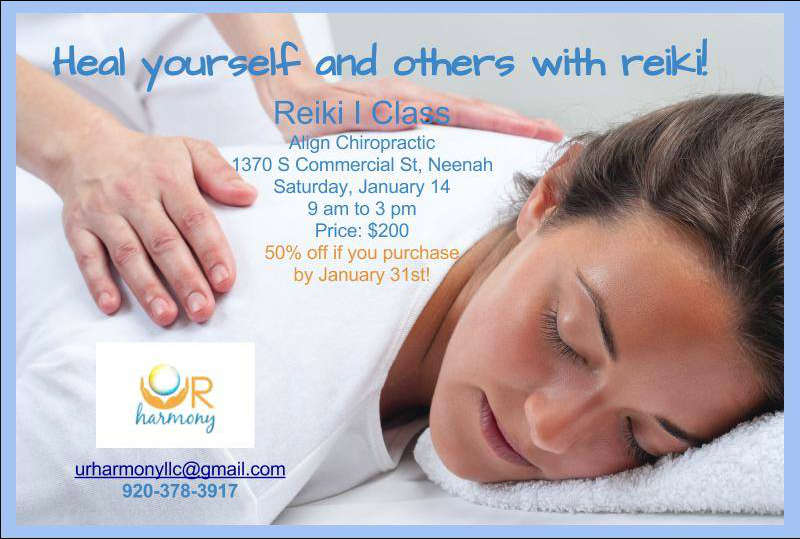 Reiki I Description: Learn the basics of reiki energy healing. Reiki is a Japanese healing art that promotes deep inner peace and relaxation. It has been found to be effective as a complementary form of treatment for anxiety, depression and PTSD. It also benefits people who are dealing with cancer and other serious health issues. This class covers basic hand positions for treating self and others, as well as an introduction to the chakra system.

Cost is $200. Receive 50% discount if you purchase by December 31st!

Call or text: 920-378-3917. E-mail: urharmonyllc@gmail.com.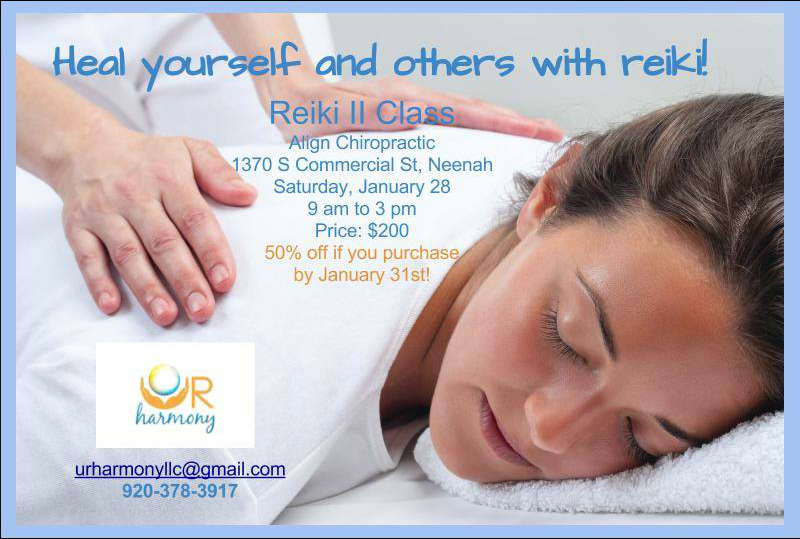 Reiki II Description: Deepen your reiki practice. Reiki I is a prerequisite. Add the use of symbols in your practice. Learn which hand positions are most effective in the treatment of specific health concerns. Learn how to use essential oils, crystals and reiki stones during treatments. Receive the level II attunement, and also some advice on setting up your reiki practice.

Cost is $200. Receive 50% discount if you purchase by December 31st!

Call or text 920-378-3917. E-mail urharmonyllc@gmail.com.
---
Reiki and Wellness
You don't have to keep suffering from stress, anxiety, PTSD, or depression. It is possible to heal your life. I created this website to help thousands of people find vibrant mental health and enjoy living beautiful lives.
First, download my free pdf to learn 20 drug-free things you can do RIGHT NOW to improve your mental health.
What makes me an expert? I suffered from bouts of anxiety, PTSD, and depression for 15 years. I've tried many different methods and would like to share what worked with you. Now, I feel great and if I start to have a bad day, I know how to fix it-- and all of this without drugs!
---
Click play to hear my story
---
Book me for Reiki energy healing and life coaching.
---
Call or email me for a free consultation. My information can be found on the Contact page.
Disclaimer: I am not a medical doctor or psychiatrist. I do not diagnose or provide primary treatment for illnesses. My services are complementary to your medical care. If you have a serious medical condition contact your doctor.